A dental implant is often the best way to replace a missing tooth or missing teeth. The general dentists of Vista Smiles can help guide you through the entire process from start to finish, making sure that your treatment goals are met.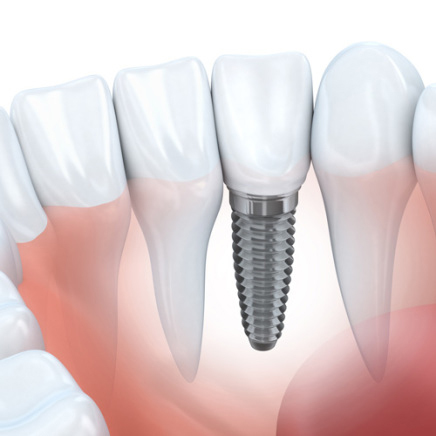 A dental implant is a great option to replace a missing tooth or teeth. An implant is made of biocompatible titanium alloy that meshes with your jaw bone to give you an incredibly stable tooth replacement. In most cases, whenever a tooth is lost, the bone where the tooth used to be will shrink over time. A dental implant is a way to help maintain bone, and give you back the chewing efficiency of a natural tooth.
Once an implant is placed in the jaw and allowed to heal, it can be used to anchor a crown, bridge or denture, to give you the look and feel of natural teeth. Dental implants restore lost chewing ability, improve appearance, end embarrassment, and give real self-confidence to patients who need them. Implants can replace one, many, or all of your missing teeth including loose fitting, wobby dentures.